Eels are back on track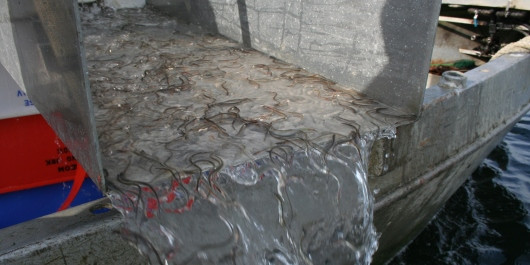 3-3-19  This week a Dutch lottery and influential charity sponsor, De Postcodeloterij, awarded the (Dutch) Good Fish Foundation a staggering amount of € 2 mln to stimulate the recovery of the eel population in the Netherlands. A moment of celebration for all eel lovers!
And an important signal that the Netherlands is currently very positively in the lead in European eel sustainability projects. In the past years, the European SEG (Sustainable Eel Group) has developed and successfully introduced a sustainability program to save the European eel population (and therewith eel trade and consumption). Their program is for a large part co-developed and carried by their Dutch partner DUPAN. Together, they created a so-called 'chain of custody' for eels, for which the obtained a crucial EU sustainability label, called ESF (Eel Stewardship Fund, comparable to MSC). A major achievement, as the successful DUPAN sustainability model is currently copied in other EU Member States that have a strong eel culture.
Their projects have created a very positive energy and momentum in the world of eels, and a stable rise in the number of baby eels entering our waters.
This positive momentum is reflected in the donation from the lottery. As such a donation also implies a trust in the organizations involved in eel sustainability projects.
As a DUPAN member and ESF certificate holder, Smit-Bokkum is very happy with this development!!
In the coming weeks I will go more into detail (and less into abbreviations ?) on how we try to save the eel in the Netherlands.